A GUIDE TO TEA TREE OIL AND USING IT FOR ACNE SPOTS
Tea tree oil is one of the most common acne home remedies used by people that suffer from acne before seeking professional treatment. Tea tree oil itself is believed to have many properties that can help improve the skin in various ways.
Tea tree oil derives from an Australian tree called the 'Tea Tree'. Not only is tea tree oil believed to be good for your skin, but it is also believed to be a healthy ingredient for organic alternative medicines and has been used by Aboriginals throughout time.
THE BENEFITS OF USING TEA TREE OIL
Tea tree oil can be used universally and is beneficial to multiple areas of the body. Tea tree is an ingredient that is often found in natural deodorants for the body, mouthwashes, as a way to treat nail fungal infections or as an antiseptic for skin wounds due to the plant's antiseptic properties. It can also be used in non-conventional ways such as an insect repellent.
HOW TEA TREE OIL HELPS WITH ACNE
There have been various studies into the use of tea tree oils in treating acne, both as a cleanser on the skin and for acne spot treatment. A particular 2006 study by Clinical Microbiology Reviews found that the anti-inflammatory properties found in tea tree oils might help with cystic acne that has resulted in bumps, inflammation and hyperpigmentation of the skin.
In more recent years, studies by the National Library of Medicine have indicated that by applying tea tree oil to your face twice a day, the oil has the ability to improve milder forms of acne and that tea tree oil in combination with other anti-inflammatory natural treatments such as aloe vera can help to improve your acne over time.
In 2015, PubMed found that using tea tree oil on hypertrophic acne scarring was found to minimize the appearance of such acne scarring. This therefore could be seen as a form of treatment to support other acne scarring treatments provided by dermatologists.
Find out more about acne treatments
If you need help treating Acne, you may benefit by seeking professional assistance. The expertise and qualifications held by our consultants allow us to offer the highest quality private dermatology consultations, treatments and skin surgery.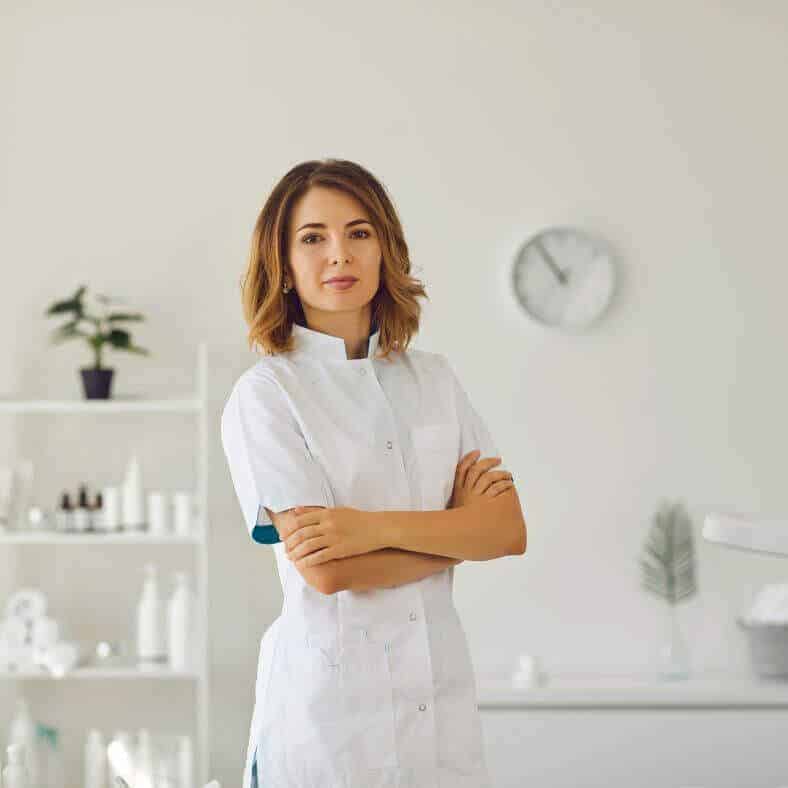 HOW TO APPLY TEA TREE OIL TO YOUR ACNE SPOTS
Applying tea tree oil to your skin should be done in a concentrated amount that is diluted through mixing with a carrier oil or moisturiser. There are many skin care products on the market that contain appropriate levels of tea tree to be gentle to the skin but also effective against acne. At the time of using the oil, be sure to not use any other oil-based products such as lemon oil or rosehip oil as this has the potential to heighten your acne symptoms.
Step 1 – patch test your skin on the inside of your elbow to determine skin sensitivity or allergic reactions. If any of these occur, you should not use tea tree oil to treat acne.
Step 2 – Use a gentle face cleanser and wash your skin. Dry the face so that there isn't excess moisture that can block the tea tree from treating the acne.
Step 3 – Apply the diluted tea tree oil with a cotton pad or even a Q-tip, gently dabbing the oil on the acne blemishes.
Step 4 – Allow the oil to dry into the skin before following up with a skin moisturiser. Tea tree oil can make the skin dry so it is important to keep your skin moisturised.
OTHER WAYS TO USE TEA TREE OIL FOR ACNE
Tea tree oil isn't only used as a spot treatment for acne, but also is often used as part of acne home remedies in various ways. It has been known to be included in clay masks to treat oily skin with the use of rose water and multani mitti. Some use it with other essential oils and ingredients such as rice flour for facial scrubbing to remove dead skin cells and bacteria on the skin.
From a nightly perspective, it is popular to use tea tree oil alongside aloe vera and coconut oil as an overnight mask to help cleanse the skin during sleep.
Tea tree oil can also be used in combination with black charcoal peelable masks to help remove blackheads and other dirt within the skin, while also counteracting any inflammatory irritants through the use of tea tree oil's anti-inflammatory properties.
It must be clear, however, that these are home remedies for acne treatments and have not been studied or confirmed by leading medical organisations as cures or guaranteed improvements for acne. Use them with caution and only if you are confident that your skin isn't too sensitive and will benefit from these treatments. A course of research should be undertaken prior to using them.
CONSULTING A DERMATOLOGIST ABOUT YOUR ACNE AND YOUR SKIN